Welcome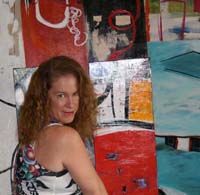 I am a Sydney based, multi-disciplinary artist working across painting, digital and print media, photography, soft sculpture and installation.
My background is in both science and digital design with a BSc(Hons) in Science from University of NSW and a Diploma in Visual Arts from International School of Colour and Design. I am currently majoring in painting at the University of Sydney, Sydney College of the Arts.
My practice in the field of expanded painting involves extracting and distiling from the urban environment, and manipulating materials to create dialogue between colour, surface and space.
I aim to provoke an aura of suggestion through my exploration and abstraction of the reveal/conceal dichotomy.
My work in both science and design has allowed me to travel through Europe, Africa and the Middle East, capturing the essence of many cultures and their environments.
For the past ten years I have been focused on painting and abstracting the essence of the landscape as I experiences it, from textured and layered surfaces, markings, reflections, memories and emotions, to the calm of open spaces and the chaos of city living.
By resisting a single style, painted minimal shapes and gestural marks coexist with screenprints, digital media and textiles to produce provocative compositions which abstract and reinterpret the visible in the everyday.
Sometimes blurring the lines between painting and sculpture, my work frequently plays on art historical references. Concepts, compositions and processes continue to develop as I consider the complexities of abstraction by questioning and experimenting with the medium; the use of methods from expressionist and minimal art, arte povera and assemblage artists and the Japanese deconstruction designers; and the adaptation of photography, screen printing, digital imagery and installation.
More recently, my focus has shifted to examining the dialogue between art, fashion and science within the context of changeability, erasure and camouflage.
My practice is evolving through the exploration of such concepts as "changeability" and "becoming" as the art/fashion and art/science boundaries continue to dissolve.
Latest from the blog

At the end of last year, I had produced a number of artworks using materials such as metal, chains, rope, fabrics. . ...Keep Reading
See more articles ►