Welcome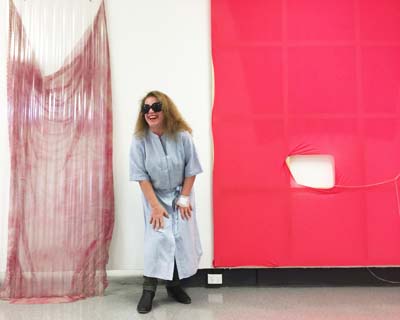 I am a Sydney based, multi-disciplinary artist.
My background in design and science with an interest in fashion and urban space is reflected in my art practice.
My practice in the field of expanded painting often involves extracting and distilling from the urban environment and sourcing and manipulating materials to create dialogue between colour, line and surface.
I am intrigued by the dualities seen/unseen, absence/presence, movement/stillness, transience/permanence and often explore processes to address these.
I recently graduated from Sydney University SCA with a Bachelor of Visual Arts(BVA) and hold a Bachelor of Science(Hons) in Marine Science from University of NSW, and a Diploma in Visual Arts from International School of Colour and Design.
My art has been exhibited in galleries throughout Australia and has been acquired by many private and corporate clients including Luke Mangan's Salt Restaurant Tokyo, Sheraton on the Park, Sydney and Tennis Australia.
Latest from the blog

At the end of last year, I had produced a number of artworks using materials such as metal, chains, rope, fabrics. . ...Keep Reading
See more articles ►