Contemporary Colour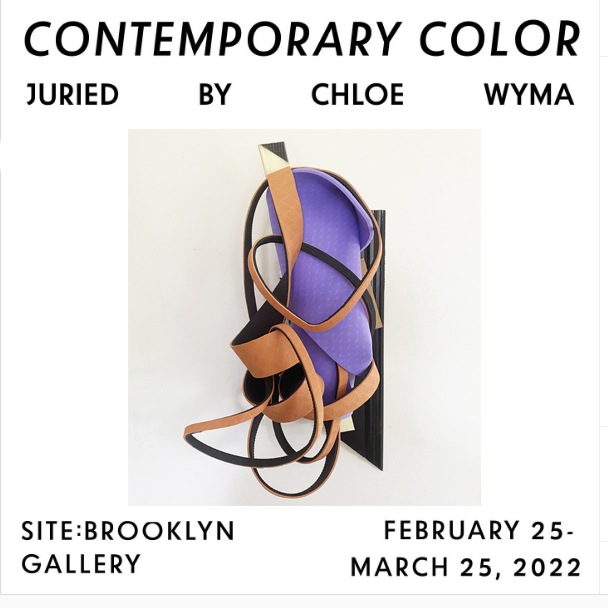 "The play of complementary hues echoes across …Karen Benton's twisted ribbons of recycled yoga matting, which pastiche contemporary wellness culture and the flaccid antiforms of postminimalism." Chloe Wyma

Delighted to have my work 'Always Searching in Site:Brooklyn Gallery, New York - online exhibition 'Contemporary Colour juried by Chloe Wyma
Site:Brooklyn Gallery is dedicated to exhibiting the current practice of contemporary artists.

Chloe Wyma is an art critic, associate editor at Artforum, and a doctoral candidate in art history at the CUNY Graduate Center, where her research focuses on sex and politics in realist painting in the United States after The New Deal.

Karen Benton Artist Statement: "Colour plays a key role in my assemblages and is used, along with shape and texture, to convey a range of emotions. Colour choices are made to encapsulate those moments when we are feeling somewhere between strong and vulnerable; between free and contained; and between feeling weighed down with responsibility and moving with a lightness and an air of positivity."
Juried by Chloe Wyma
What is the relationship between colour and contemporaneity? It's a tough question, and one that will not be answered programmatically in this exhibition. That said, we might begin to understand colour in the present by briefly turning to the past, or rather to a schematic narrative of colour's rise and precipitous fall in the last century. From the synesthetic fugues of expressionism to the apophatic theology of the first monochromes, modernism sought to liberate colour from its descriptive function, to distil its ontological essence and activate its spiritual power. Later artists, the story goes, renounced such utopian hopes for colour, which, they concluded, could not be dissociated from the technologies of industrial production, the seductions of the commodity form, or the spectacle of mass culture. No longer a universal language or a vehicle of "pure feeling," colour was understood to be indexical, coded, and signifying.
How do artists working today carry on from this lapsarian narrative—partial and problematic as it maybe be? The artists gathered here treat colour as a fact of the material world and a matter of deep personal significance. They limn its intimate relationship to memory and embodiment, its valences apropos race, gender, and class, and its imbrication in systems of digital mediation, artificial intelligence, and surveillance. They draw their palettes from the imagination, from nature, from the refuse of mass consumption, and from the chasmic archive of the internet. Some artists depict everyday life, while others conjure otherworldly landscapes. Some are preoccupied by the materiality of colour, others by optical effects of shine and refraction, others still by atmospheric potential of opacity and shadow. In their artist statements, many describe a deep sense of pleasure and solace they take in colour, especially during these difficult past two years. In the idiosyncratic clusters of works below, distinctions between art and craft, painting and sculpture, abstraction and figuration, avant-garde and kitsch are treated with irreverence, allowing formal coincidences and shared conceptual concerns to surface. I hope that, taken together, they provisionally map some approaches to contemporary colour: no longer innocent, but still full of grace. -Chloe Wyma
Chloe Wyma is an art critic, associate editor at Artforum, and a doctoral candidate in art history at the CUNY Graduate Center, where my research focuses on sex and politics in realist painting in the United States after The New Deal.
Her writing has appeared in publications including Artforum, Bookforum, The New York Times Book Review, The Village Voice, The Art Newspaper, New York Magazine, Momus, Architectural Review, Dissent, Modern Painters, Art & Auction, and The Brooklyn Rail, where I also served is an Associate Editor. I'm a 2018 recipient of The Creative Capital | Andy Warhol Foundation Arts Writers Grant in Short-Form Writing.
Artists selected to exhibit: Cherisse Alcantara, Catherine Bennaton, Karen Benton, Helen Bishop-Santelli, Lesley Bodzy, Margaret Brown, Maryalice Carroll, Simone DiLaura, Nate Ditzler, Chlo Finley, Sue Graef, Antoinetta Grassi, Megumi Harada, Reineke Hollander, Kwanza Humphrey, Timon YC I, Nancy Ivanhoe, Erin Juliana, Thomas Knight, Kenneth Millington, Ara Osterweil, John Ralston, Mike Ryczek, Clare Samani, Gail Shaw-Clemons, Marna Shopoff, Anne Spalter, Demetrius Wilson⁠