Movement in Stillness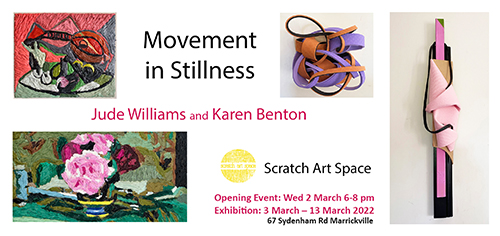 Movement in Stillness
Scratch Art Space

Karen Benton & Jude Williams

Runs 3 – 13 March 2022
Opens Wednesday 2 March / 6 – 8pm
Artist Statements
Karen Benton
Drifting away from Still Life's traditional depiction of the everyday, my work focuses more on the movements involved in searching for spaces of stillness.
My practice blends traditional materials with the unconventional with works straddling a space between painting and sculpture. The common medium of acrylic paint is often in conversation with the folds and threads of yoga matting.
Inspired by the feeling of connectivity, my works allude to the challenging emotional highs and lows we sometimes experience when encountering or connecting with the other.
Restless encounters and connections are depicted by manipulating material through acts of folding and repetitive threading and mark making – symbolising the quest for a quiet place to be still, to reflect and to contemplate.
Jude Williams
My body of work is a collection of highly textured and blurred images which appropriate and transform the artwork of early still life artists.
My practice explores the intersection between painting and photography. These works embody a meditation on a photographic image of early artists work, using broad strokes and thick paint. They speaks to the heart of me, to the deep motivating emotions of myself within my world.
By applying multiple layers of coloured medium to the photographic surface, I paint to travel to places I cannot physically go. I meditate daily on the works, frequently to music, as I slowly apply layer after layer. Some days the process is an internal struggle with myself and the outside world as I grapple to find my way, but others are more engaging as I meditate effortlessly towards what feels like my authentic self.
The painted objects I make, textured like favourite jumpers and warm tapestry, build a fiction around the way I've lived and want to live. In time the works begins to connect to each other. The resulting objects are homages to these early artists inspiring work.