Previewing Katharina Grosse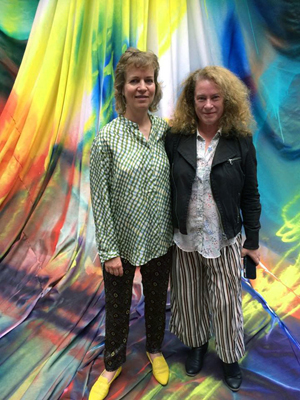 When I interviewed the very eloquent and poetic Katharina Grosse at the media preview of "The Horse Trotted Another Couple of Metres, Then it Stopped" at Carriageworks on January 4 2018, one of the questions I asked her was to clarify a statement made by Anna Schwartz (Director and Founder of Anna Schwartz Gallery) that Katharina ignores dichotomies. Here is an excerpt from my interview...
Katharina Grosse: "I don't see (the folding of fabric and conceal/reveal) as a dichotomy. I see it as something that exists at the same time. It's a paradox (just like) you can have cold and hot at the same time.
Painting normally is not sitting on a sculptural surface. A sculptured surface is something that can be measured - for example 1.5 metre deep x 2 metre wide. The space in painting is something you can't measure. Here (for Carriageworks) I have put two things together that have very different building systems, One that is measurable and one that exists in the imagination. It is put there together in a way that is very confrontational for both systems.
"While painting on a scale like this, there is a constant reassessment of the time zone while painting the surface. You are at once in a time zone that is very early and then in a time zone that is last and very dense but for me they exist at the same time. Painting is not linear.
"I have created a very large painting which coexists with small dense paintings where I have folded and scrunched………"
And at the conclusion of my interview - a comment from Katharina which I will treasure....
"It is great that you know about all these things (folding, linearity of time, dichotomies) that not many people do."
(Thankyou SCA, Sydney University for equipping me with a depth of knowledge acquired during my Bachelor of Visual Arts which I completed in 2017)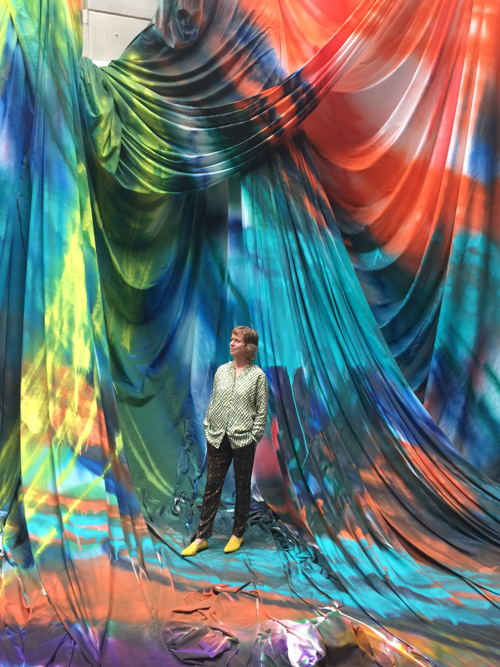 Carriageworks today unveiled a major new commission by renowned German artist Katharina Grosse of a site-specific installation representing the third in the Schwartz Carriageworks series of major international projects.
The world premiere of the work titled The Horse Trottted Another Couple of Metres, Then it Stopped is presented free to the public at Carriageworks from 6 January as part of Sydney Festival 2018 and continues until 8 April 2018. Grosse's exciting new work envelopes Carriageworks, responding to the unique industrial architecture and grand scale of the heritage building.
Grosse is best known for her works of kaleidoscopic colour and epic scale, transforming space by breaking out of the traditional boundaries of painting, and engaging visitors as both observers and participants.
For Grosse, painting is an experience in immersive subjectivity, from her canvases and sculptures to her in situ works, painted directly onto architecture, interiors, and landscapes. Working with a spray gun, she implements multi-dimensional visual effects over surfaces and textures to create sublime and otherworldly environments. She first introduced voluminous fabric into her painting in 2014.
Katharina Grosse explained: "I was fascinated by the thought of folding space. I was interested in taking this vast surface and shrinking it by folding or, actually, hiding the entirety of what's there. I understand a painting as something that, as we view it, travels through us and realigns our connections with the world."
Working directly on site at Carriageworks, Grosse enveloped the Public Space in more than 8250 square metres of suspended fabric—draped, knotted and hung across and through the architectural elements of the building—using a palette of raw colour to create a vast painting over the layers of folds.
Carriageworks Director Lisa Havilah says: "We are honoured to be working with Katharina Grosse on the most ambitious single-artist commission Carriageworks has undertaken. This represents a special opportunity for Australian audiences to experience Katharina's extraordinary vision and transformative beauty through this major commission that will be presented exclusively at Carriageworks."
Anna Schwartz, Director and Founder of Anna Schwartz Gallery commented: "I am delighted to be supporting the third major international visual arts project in the Schwartz Carriageworks series, with this exciting new commission of work by Katharina Grosse."