Art Science Oceans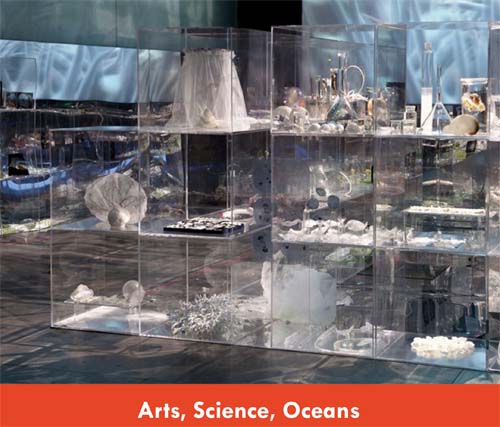 My interests in camouflage as both an art/fashion concept and as mimesis led to a meeting with University of Sydney's Prof. Ann Elias.
Ann researches visual representations of nature in art, science and popular culture. She is writing a book for Duke University Press titled Coral Empire, an investigation of the efforts of photographers and filmmakers in the 1920s to photograph underwater at the Great Barrier Reef and the Bahamas. She is an affiliate of the 'Underwater Worlds Project', Sydney Environment Institute at the University of Sydney.
As I have a degree in Marine Science/Geology from University of NSW, Ann was interested in my thoughts on stress effects on coral which developed into a conversation on coral bleaching and climate change especially within the coral reef ecosystem of the Australian Great Barrier Reef. Scientific studies continue to highlight the threats of global warming on fragile ecosystems such as the Barrier Reef.
ARTS, SCIENCE, OCEANS
Following on from my meeting with Ann, I was invited to participate in Arts, Science, Oceans, a one - day colloquium delivered through The Sydney College of the Arts research cluster, Space, Place and Country in association with Sydney Environment Institute.
Artists and scientists have long shaped our knowledge and imagination of oceans. Today, however, across a broad range of disciplines including biology, politics, history, and aesthetics, the focus on aquatic environments is increasing. Arts, Science, Oceans brought together a group of scholars at the University of Sydney from the Sydney Environment Institute, Sydney College of the Arts, the Faculty of Science, and the Faculty of Arts and Social Science for the one-day colloquium with Humanities scholars from Vanderbilt University.
In response to the sea's natural history and social history the colloquium addressed the past, present and future of human impact on the planet's marine realm and the significance of the ocean to contemporary research and writing. Particular emphasis was placed on coral ecology in view of the recent mass bleaching of a large part of the Great Barrier Reef, as well as the threats to corals posed by dredging and acidification.
JANET LAURENCE
Installation artist, Janet Laurence, spoke about Deep Breathing-Resuscitation for the Reef (2015), her acclaimed work created in response to the beauty but also the degradation of the Great Barrier Reef through ocean warming and acidification.
Main Image courtesy of Janet Laurence
Other speakers included
LAURA FISHER
"Sugar vs the Reef is a long-duration artistic project involving artists Lucas Ihlein, Ian Milliss and Kim Willams in Mackay, Queensland, where the chemical run-off from sugar cane farming is a major cause of damage to the Great Barrier Reef. While it will have many faces, the project largely consists of social encounters and public actions that bring together farmers, scientists, environmentalists and other groups who have hitherto not been in accord over the Reef's predicament. Sugar vs the Reef is a continuation of The Yeomans Project, which examined the legacy of Australian farming innovator P. A. Yeomans through the very suggestive trope of "the farmer as artist". Ihlein and Milliss described the latter project as 'an opportunity to look at art as an entirely utilitarian enterprise – one that proposes new, creative and sustainable ways of working with land'."
TRACEY CLEMENT - CRITICAL CARTOGRAPHY "Through a critical analysis of my own recent artworks, which were triggered by JG Ballard's 1962 sci-fi novel The Drowned World and made in response to the eschatological anxieties of our age, I will demonstrate that art may be the most accessible way to engage with the hyperobject that is climate. This argument will be supported by sources such as (but not limited to) Claire Colebrook's Death of the Posthuman: Essays on Extinction, 2014, Spencer R Weart's The Rise of Nuclear Fear, 2012, and Theodor Adorno's posthumously published book, Aesthetic Theory. And significantly, using my Critical Cartography series of maps which chart the impact of rising sea levels, I will step outside the traditional realm of aesthetics to establish that the act of making art has just as important a role to play in comprehending our current climate crisis as the appreciation and interpretation of artworks."