Art and Climate Change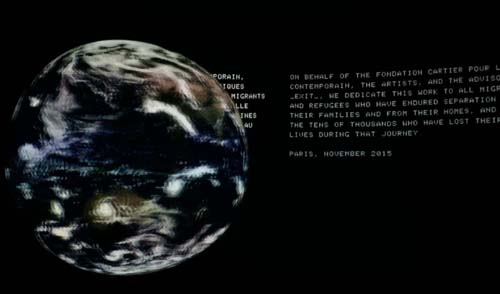 Global populations are unstable and on the move. More people than ever before are leaving their home countries for political, economic and environmental reasons.
UNSW Galleries is currently showing the Australian premiere of EXIT, an immersive and dynamic film environment that tracks the grand challenges of our time using real time data from 2008 to 2015.
EXIT is a picture of a planet in trouble.
In an immersive, 360-degree installation, EXIT visually correlates global human migratory trends with urgent social and economic issues: increasing urbanisation, economic displacement, political disruption, climate change, natural disasters, and deforestation. Data gathered from over one hundred sources is geocoded, processed through a programming language, and presented visually by a rotating globe that translates statistics into maps, texts, and trajectories as it orbits the space.
Commissioned by the Fondation Cartier pour l'art contemporain, Paris based on an idea by Paul Virilio created by Diller Scofidio + Renfro with Laura Kurgan, Mark Hansen, Ben Rubin in collaboration with Robert Gerard Pietrusko, Stewart Smith.
Recently updated, EXIT was universally acclaimed when it was first exhibited at the Palais de Tokyo to coincide with the COP21 United Nations Climate Change Conference. Little more than a year later, with the escalating refugee and migration crises and the Paris Agreement in doubt, EXIT is a timely reflection on many of the most important challenges we collectively face. This is a global forecast that Australians cannot afford to miss.
Australian premiere presented in association with Sydney Festival and major sponsors the City of Sydney.