Conceptual Art Conceptual Fashion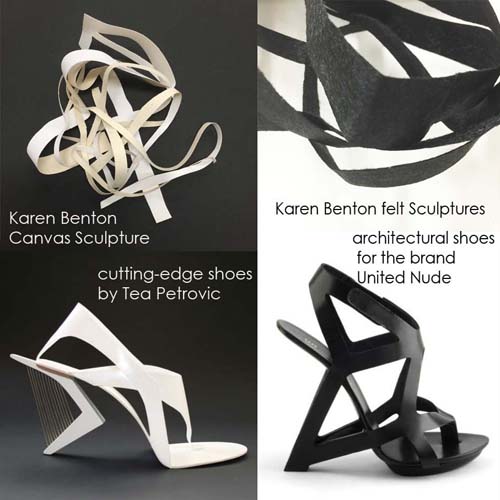 The architecture of Santiago Calatrava is captured flawlessly in a series of cutting-edge shoes by Tea Petrovic for a project at the Academy of Fine Arts in Sarajevo.
Sarajevo designer Tea Petrovic has designed a collection of shoes based on the work of late Russian sculptor Naum Gabo and Spanish architect Santiago Calatrava.
Petrovicis a graduated student of the Academy of Fine Arts in Sarajevo, Bosnia & Herzegovina. The shoe collection is centred around the idea that each shoe is an sculptural-architectural structured form. The collection contains ten prototypes entirely handmade.
Bernard Figueroa once said: 'There is so much space between a woman's heel and the floor that one can use.'
These shoes are primarily an art object and their function is secondary.
The nephew of famed architect Rem Koolhaas, and an architect himself, Rem D. Koolhaas teamed up with British shoemaker Galahad Clark to create a line of architectural shoes for their brand United Nude.
My felt and canvas sculptures reflect the collision of art, fashion and architecture in the same way as do these shoe designs.
More and more the boundaries become blurred.