A resistance against melancholy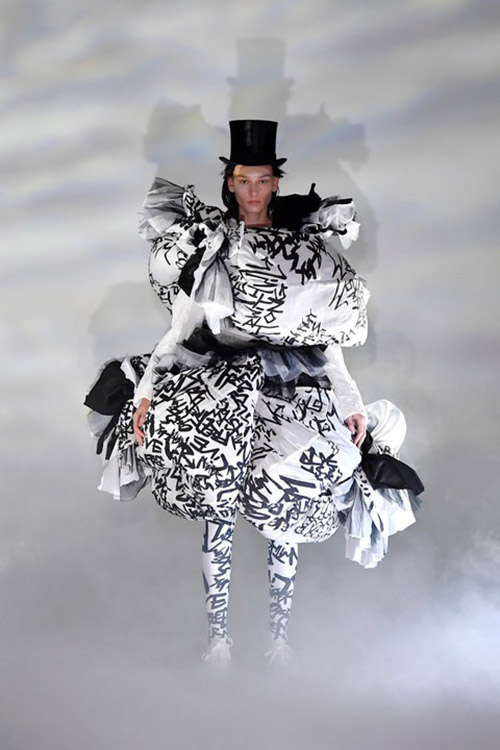 For my Bachelor of Visual Arts Honours dissertation 'Distort' in 2018 I referred to Rei Kawakubo from Commes des Garçons. Several artists 'fracture the body', however the conceptual inspiration for my Honours project came from Rei Kawakubo's seminal collection Body Meets Dress/ Dress Meets Body (Spring/Summer 1997).
Kawakubo designs the body itself rather than the clothes. The distortions in her designs are read as metaphors for the body in transition. The disassembling and reassembling within her construction process is considered to be representative of the imperfect and fragmented body. Within her work, the play between such dualities as beauty/grotesque, attraction/repulsion and creation/destruction distorts form and tests the limits of boundaries.
Monochrome was always in the original Comme des Garçons designs when in the early '80s, at the beginning of her showing in Paris, Kawakubo's uncompromising use of black and her rejection of Eurocentric standards of design was deemed shocking and 'conceptual'.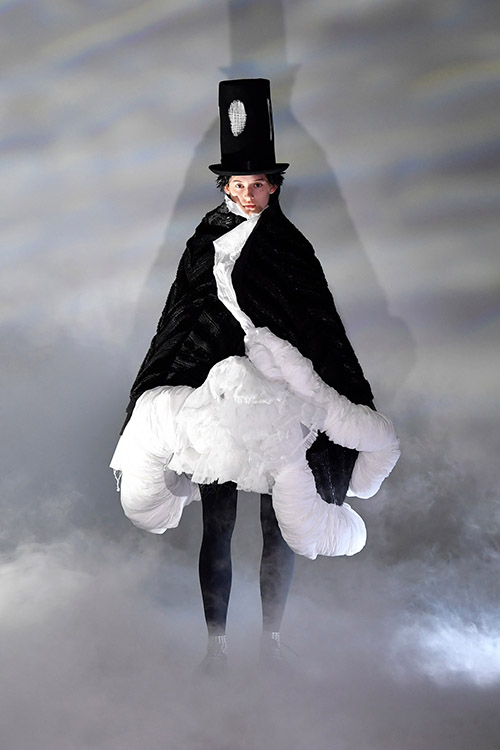 In this Fall 2021 collection, there appears to be a return to the "more beautiful" rather than grotesque, the "more sumptuous" than the minimal.
As stated in Vogue "There is something sumptuously Edwardian-Victorian about all these black cloaks with puffy white linings, ballooning crinolines, frothy layers of whipped white cotton and black tulle. With the addition of the rakish stovepipe hats from Ibrahim Kamara, it could almost—almost—come across as a modernist echo of Cecil Beaton's My Fair Lady Ascot scene.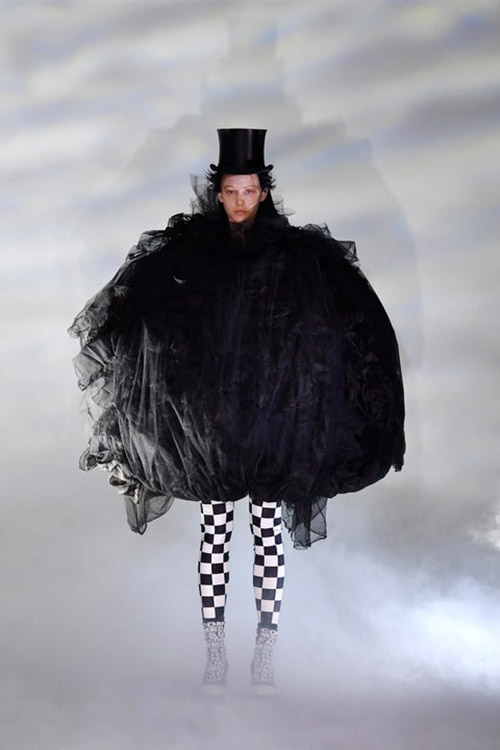 "Comme de Garçons's 'monchrome serenity' comes from an escapist place. Is it a tender, playful, and nostalgic place too? The longer you look, the more beautiful things are revealed: tufted coats and classically tailored jackets amongst the puffballs and drum-like skirts. It's nice to imagine that Kawakubo might have been having fun being absorbed in all of this. For creative people, making and imagining is a safe space. Whatever it was that was flowing through her mind at the time, it looked like a resistance against melancholy, even with those shadows at her back." vogue.com/fashion-shows/fall-2021-ready-to-wear/comme-des-garcons